A seed investment group run by students, the Calvin Shindo Student Venture Fund at the University of Hawaii in Mānoa, announced its first-ever strategic investments totaling $20,000 in Hohonu and Windercompanies created by uh faculty member and alumni.
The venture capital fund, launched in 2021 as a program under the Asia Pacific Center for Entrepreneurship (RHYTHM) to Shidler College of Commerce– is a one-of-a-kind learning opportunity, providing students with hands-on, hands-on learning about the venture capital process. The 12-member interdisciplinary student committee researched potential deals, reviewed investment requests, performed extensive due diligence on startups, negotiated and structured deals.
"These investments highlight the tremendous potential for innovation and entrepreneurship in our uh teachers and students," said Nathan Beck, a former chairman who oversaw investments in both startups. "It also highlights the need for more equity investment in startups that will help diversify Hawaiithe economy.
Start-up investments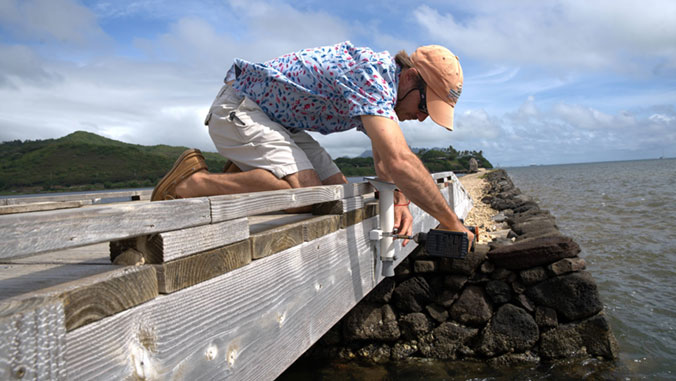 The venture capital fund's first investment was in Hohonu, a startup that uses technology developed by uh Manoa's School of Ocean and Earth Science and Technology Associate Professor Brian Glazerto help coastal communities monitor tides and water levels in real time to better respond and adapt to flooding and climate change.
A second investment was made in Reeler, a startup developed by two uh elders of Mānoa, Laurence Pierce and Spencer VanDerKampto directly connect artisanal fishermen to consumers through its mobile application.
Related uh New stories:
New fund managers
The Calvin Shindo Student Venture Fund also announced two new student leaders. Chris Scott Graya finance senior at Shidler College of Business, will serve as the new president.
"I am delighted to be in a position where I can have a tangible and positive impact on Hawaiiof the entrepreneurship ecosystem," said Scott-Gray. "With the solid foundation that former student leaders have put in place, I plan to continue to grow the reach of the fund by implementing long-term marketing strategies, improving venture capital education for fellow students and using strategic partnerships."
We are excited to help with both venture capital education for UH students and helping local startups realize their dreams.
—Rumesh Sentinathan
Rumesh Sentinathansenior in civil engineering at the College of Engineeringwill assume the vice-presidency.
"After working, learning and growing with the team at the Calvin Shindo Student Venture Fund for nearly a year and a half, I was thrilled to be named Vice President," Sentinathan said. "We seek to ensure that uh– startups and student affiliates are supported by the fund. We are excited to help with both venture capital education for UH students and helping local startups realize their dreams with funding and guidance.
The fund is accepting applications for the next round of investments until October 7. For more information, email [email protected] or visit the RHYTHM website.