Members of the Tile Council of North America, Inc. (TCNA) will be donating unique, handcrafted tile doghouses to "The Animal Foundation" during Coverings 2022 in Las Vegas, NV. Participating companies included: American Wonder Porcelain, Anthology, Casa Ceramica, Crossville, Inc., Florida Tile, Jeffrey Court and Syzygy Tile.
The shapes used to make the niches were custom made and supplied by Wedi Corp.
"TCNA is thrilled to be working with The Animal Foundation this year to help them achieve their goal of helping Las Vegas-area pets," said TCNA Chief Marketing Officer Kathy Meyer. "The generosity and commitment of our members to this wonderful cause is reflected in each of these unique masterpieces. Niches are a showcase of another way to use tiles to turn a home into a work of art.
"The Animal Foundation is grateful to TCNA and its members for providing these beautifully designed doghouses, which will be available at our annual Best in Show fundraising event. The funds raised through their auction will go a long way toward providing the care and treatment needed for the nearly 25,000 animals we take in each year. We appreciate TCNA's support in helping the thousands of homeless, injured and neglected animals in the Las Vegas Valley who are waiting to find homes and a family to love," said Cassie McIntyre, director of development for the Animal Foundation.
The following descriptions were provided by the companies/artists who tiled the niches:
American Wonder Porcelain (booth # N2314)
This year's American Wonder porcelain niche is worthy of a high roller!
Featuring a bold mix of marble-looking Adagio Porcelain™ and striking Aegean Stone Porcelain™ on the exterior, the house includes fun poker chips and playing card accents at its entrance. There is also the famous "A Friend in Need" from Cassius Marcellus Coolidge's "Dogs Playing Poker" series of paintings inside. Any dog ​​would be all-in for this house ace!
Anthology (booth # N2714)
Anthology wanted to provide a rescue with a truly special home, because a spoiled dog needs a posh palace.
The inspiration for the Anthology niche came from the current trend of bold, black and white design. Anthology's unique marble mosaics tile the roof, perfectly modeling real shingles, and black accents are just the right finishing touch. Ceramic tiles by Walker Zanger adorn the front and back of the elegant dog villa. White, clean and elegant subway tiles from Anthology complete this masterpiece. Don't forget the charcoal pup paws, made from Anthology's circular stone mosaics.
Anthology hopes these puppies enjoy their dog sanctuary and find their forever home.
Casa Ceramica (booth # N2226)
Casa Ceramica's Las Vegas-inspired niche was designed and installed by their in-house design and installation team.
Tiles and moldings come from Casa Ceramica's most popular tile collections: Mediterranean and Palacio. The plate and bones are handmade locally in Florida and add a final playful touch.
Crossville, Inc. (Booth # N2304)
Crossville's niche features tiles from their Classic Grooves collection with a palm mosaic roof. The niche is also adorned with stacked mosaics of Snow and Ice glass and natural stone from their Ebb and Flow collection.
Florida Tile (booth # N2504)
Puppies deserve fashionable digs! One lucky pup will reside in this visually striking biophilic-inspired home. Created by Florida Tile, this niche features Cotto d'Este 3.5mm Kerlite Wonderwall (finish: natural; color: foliage).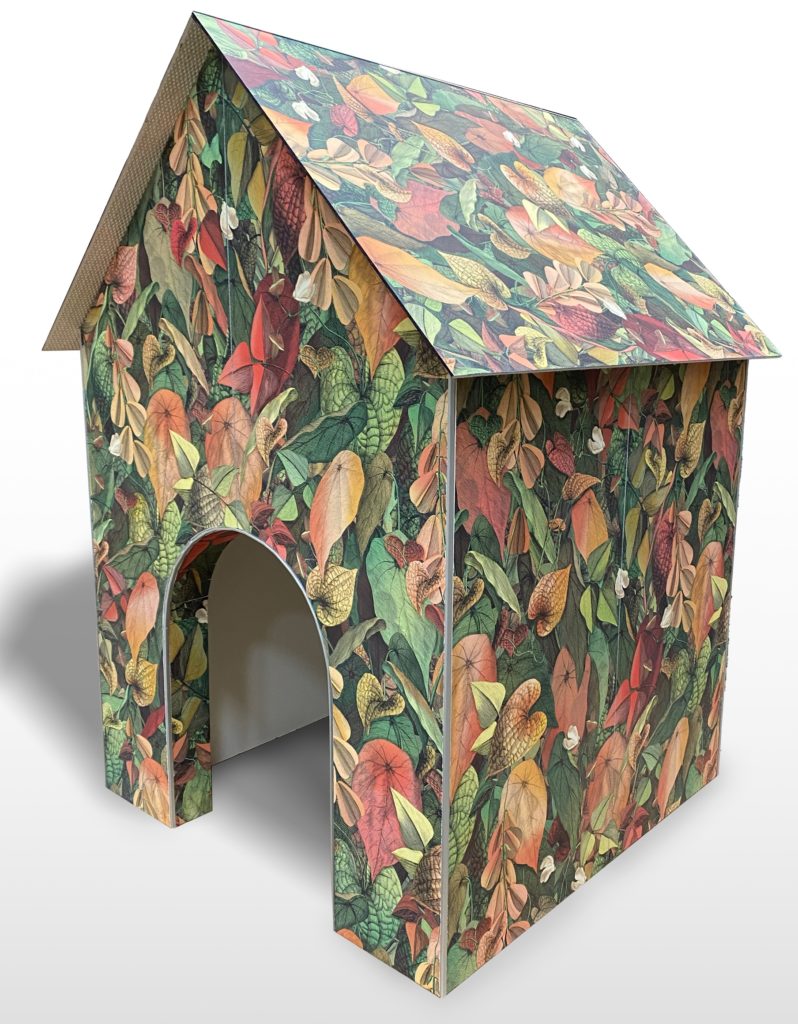 Jeffrey Court (booth # C4835)
As Jeffrey Court turns 30and birthday, they thought it was fitting to design a doghouse to honor this big holiday by transporting their favorite four-legged friends to a black-tie event. With its black and white theme, the niche was designed as the perfect outfit every fashion icon needs for a grand ball.
Starting with the "pants suit," the back and side walls were created with Jeffrey Court's 3″ x 10″ field tile in polished Nero Marquina from their Chapter 18 Rotunda collection. The "dress shirt" in front of home features a custom Jeffrey Court logo using a 5/8″ hex mosaic from their Chapter 14 The Press collection in white and black.
To accessorize and complete the set, Jeffrey Court added a star jewel: the roof. Decorated with their unique Roulette Mosaic and featuring natural black, white and pink stones from their Eternal Anniversary Collection, it is sure to turn heads and will have all the fur babies eagerly awaiting their prom invite.
The niche was designed by Susan Chance and installed by Maison Surface Studio, Upland, CA.
Syzygy Tile (booth # N2127)
The front of Syzygy's niche is clad in their Cadence Lo 3″ in Aspen Bark, and the sides feature a Cadence Lo 2″ and alternate between their Blanca and Lava glazes.
The roof features Syzygy's Quite Contrary Mosaic in a custom mix of gloss, matte, and metallic finishes including the following glazes: Powdered Sugar, Aspen Bark, Satin White, Bone, Vanilla, Milk, Bruce White, Black, Matte Black, shiny gold, ivory and snow white.
The back of the niche features a striking pattern with Syzygy's #2 parallelogram in Aspen bark.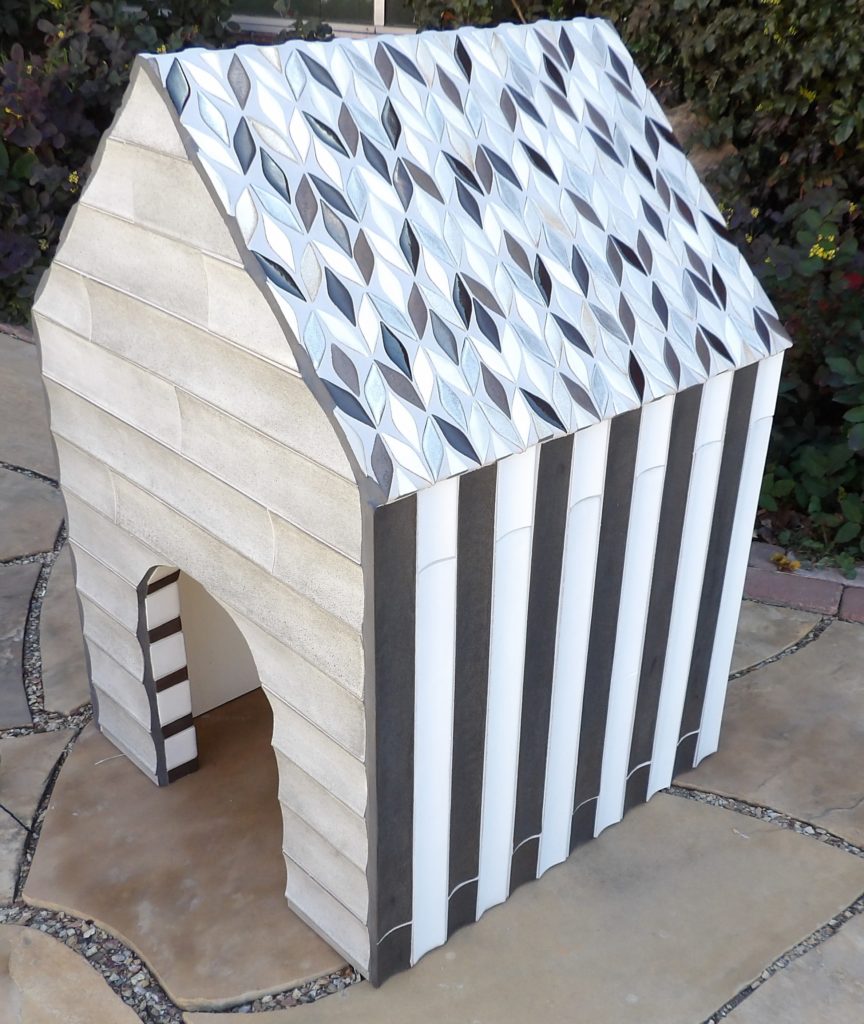 The Animal Foundation, founded in 1978 as a low-cost neutering and neutering clinic, is America's largest single-site animal shelter. The Animal Foundation's mission is to rescue all healthy, treatable animals in the Las Vegas Valley.
Much like a public hospital, as an open-admission shelter, The Animal Foundation welcomes all animals that come to us in need, whether sick or injured. From expected dogs, cats and rabbits to pigs, chickens and exotic animals, The Animal Foundation serves them all.
TCNA is a trade association representing manufacturers of ceramic tile, tile installation materials, tile equipment, raw materials and other tile-related products. Established in 1945 as the Tile Council of America (TCA), it became the Tile Council of North America (TCNA) in 2003, reflecting the expansion of its membership throughout North America.
The Tile Council is recognized for its leadership role in facilitating the development of North American and international industry quality standards for the benefit of tile consumers. In addition, TCNA regularly conducts independent research and product testing, works with regulatory, trade and other government agencies, and publishes installation guidelines, tiling standards, economic reports and promotional literature.