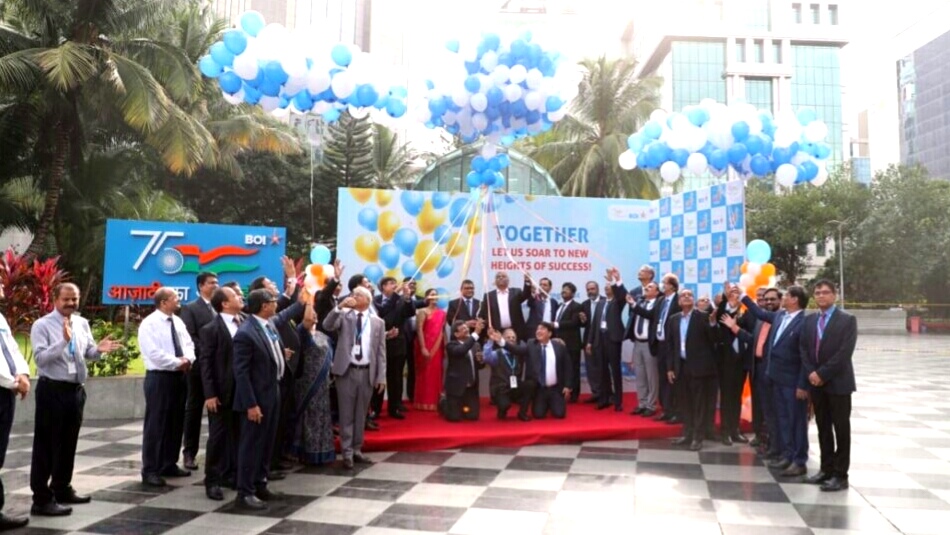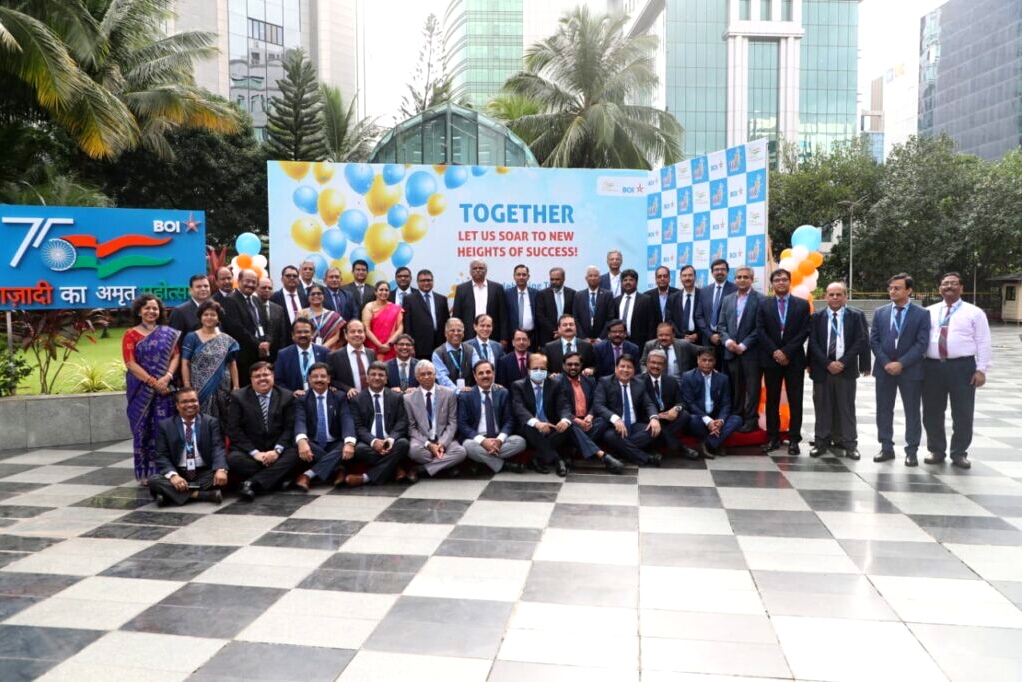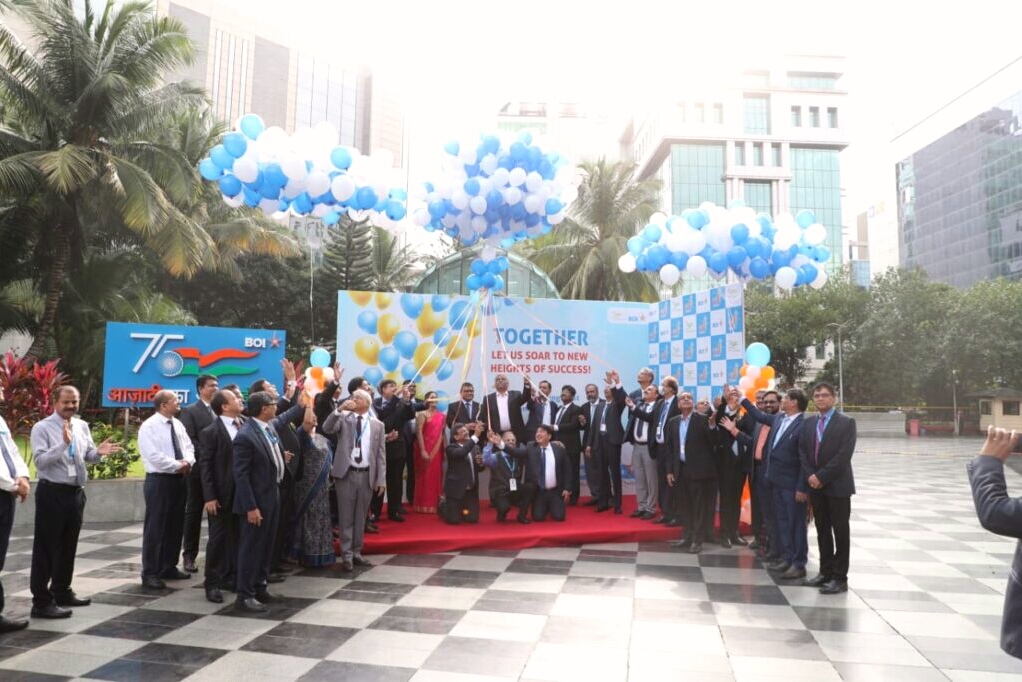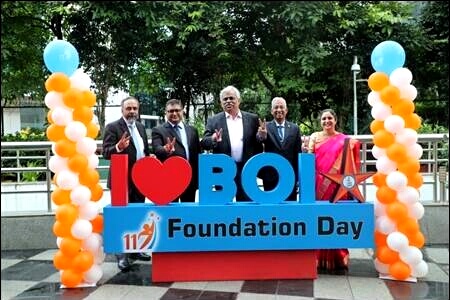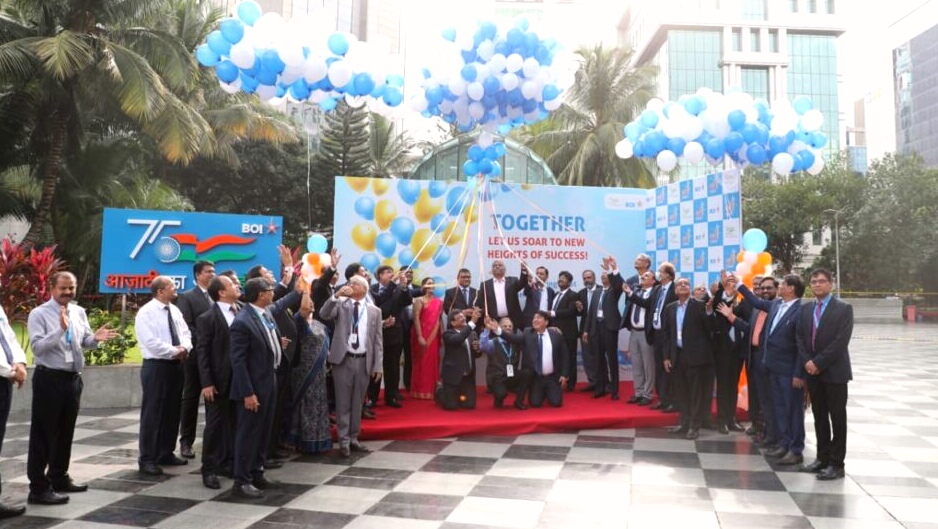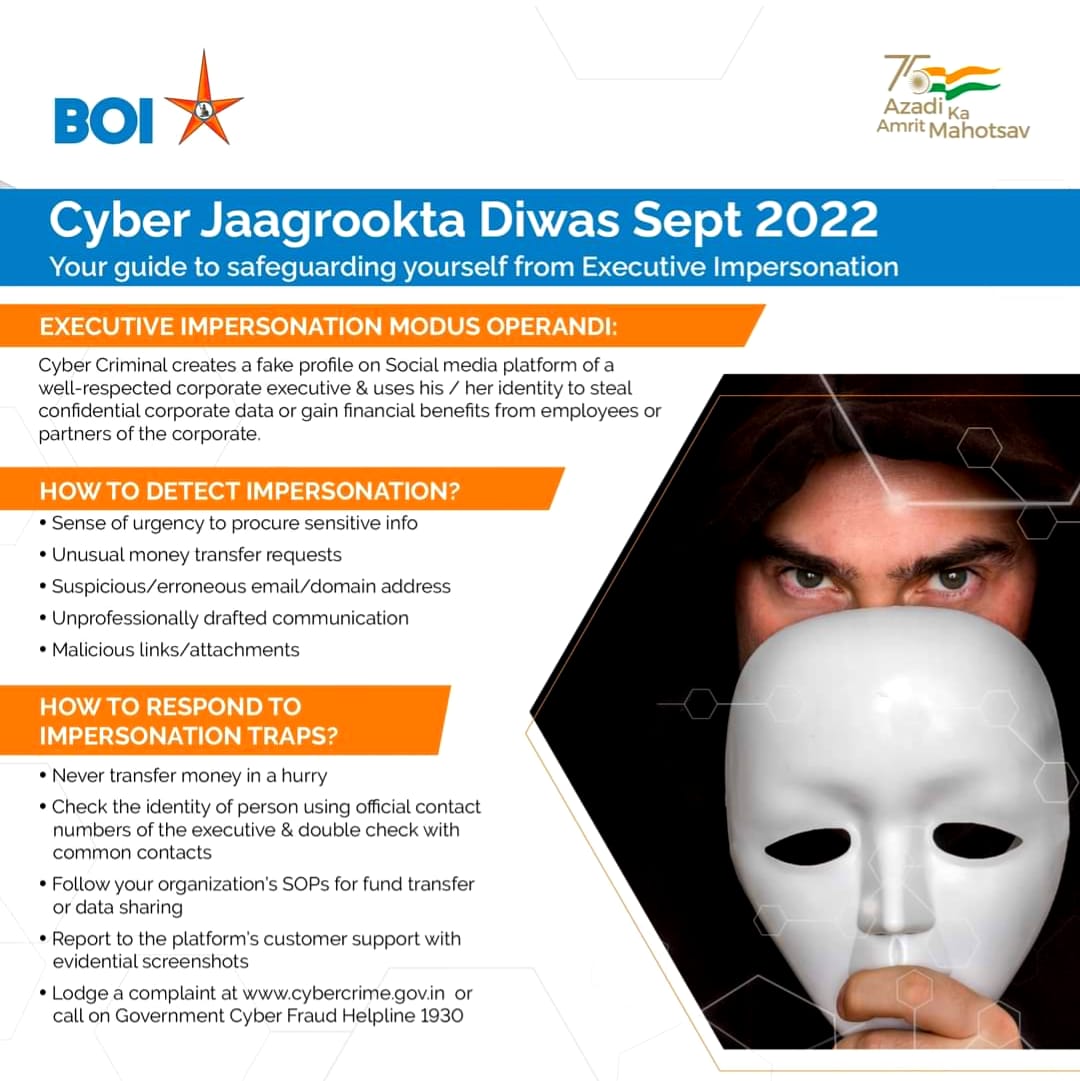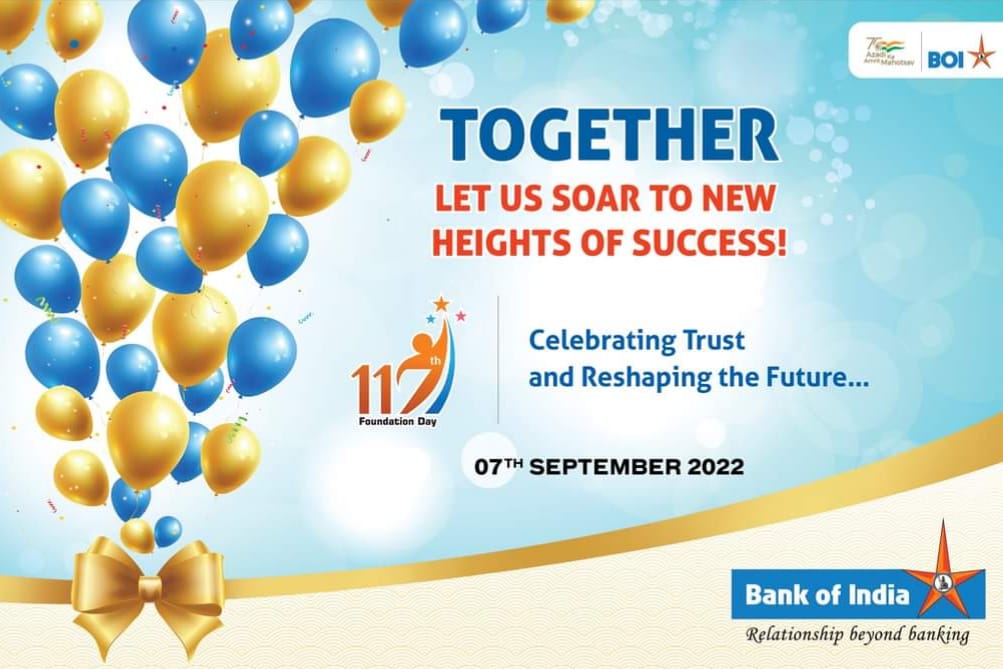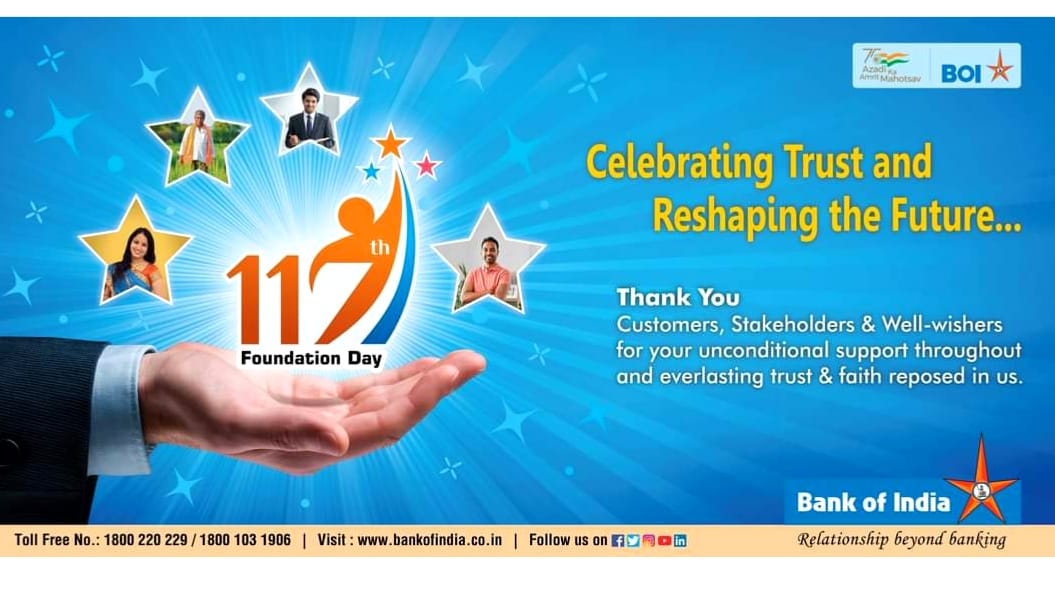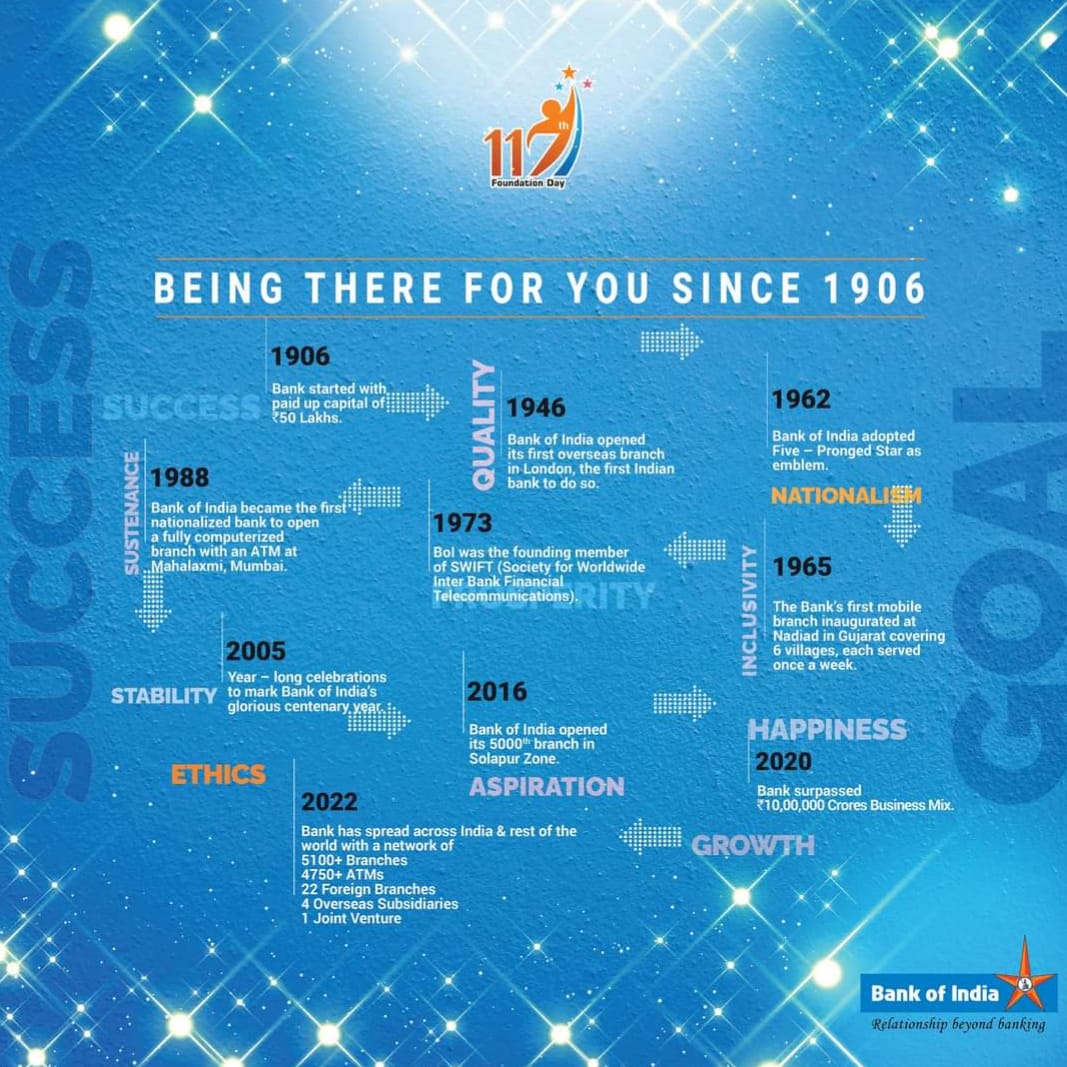 MUMBAI, SEPTEMBER 07, 2022 (GPN): Bank of India, one of the largest public sector banks in India, celebrated its 117th founding day on 7e September 2022. Bank of India has completed its 116 years of glorious journey and dedicates all its success to its customers, stakeholders, patrons and supporters for being with the Bank throughout its endeavours. Bank of India has a nationwide presence with a total of 5105 branches as of June 30, 2022 and the bank also has 25 overseas branches.
This important day is celebrated throughout the Bank and its establishments with a series of events. The function was inaugurated by the Managing Director of BOI, Mr. AK Das in the presence of all the Executive Directors Shri PR Rajagopal, Shri Swarup Dasgupta, Shri M Karthikeyan and Mrs. Monika Kalia and all the Head Office staff, BKC, Mumbai.
Over the decades, the Bank has been at the forefront of offering various products and services to its customers by adopting a policy of perseverance, prudence and caution. Today, the bank makes an important contribution to the total self-sufficiency of the country by serving all segments of the population, be it retail, agriculture and MSMEs.
On this important day, the Bank unveiled its various digital initiatives with the aim of making most of its products and services available digitally. Bank under its Go Digital initiative launched, BOI e-Trade – a fully digital platform for transparent trade finance and supply chain finance, BOI e-Gold to make gold lending available digitally, BOI Biz Pay – a completely safe, secure and fast merchant application for all payment and transaction needs. The bank has also released a digital mode of opening savings account by naming it e-Bachat and also unveiled its e Mudra for an end-to-end digital journey to avail Mudra Loan (Shishu) under MSMEs.
Bank of India has taken various initiatives as part of its CSR activities including providing financial assistance for the distribution of study kits to students (who have lost their parents due to Covid-19) through the Department of Women and Child Development, Government of Maharashtra. In another CSR activity, the Bank provided financial assistance for the purchase of new and advanced computers, books, toys for students with intellectual disabilities through the Punarvas Education Society, Mumbai. BOI staff members also participated in "local community services/social activities" in the areas of CSR activities, viz. cleanliness initiative, tree planting/reforestation, teaching/mentoring poor students, any development activity for the poor and needy and/or awareness campaign for water conservation/environmental protection, etc Bachao, Beti Padhao Abhiyan.
As a mark of respect and to commemorate this special occasion, the Bank congratulated its Staff Officer-World Boxing Champion – Nikhat Zareen for winning the gold medal for the nation at the recently concluded Commonwealth Games. The Bank also commended Lijjat Papad Founder Mahila Grih Udyog-Smt Jaswantiben Popat for her outstanding contribution to empowering over 45,000 women to earn respectable livelihoods and self-reliance. BOI Staff & Indian Classical Vocalist – Pandit Suresh Bapat Ji has also been praised for his contribution in the field of music.
The Bank has also received various awards and accolades for their immense contribution to banking and the betterment of society. Some of them are – Bank of India has been ranked among the top 3 performing banks in the implementation of the Agricultural Infrastructure Fund (AIF) scheme which is one of the flagship programs of the Ministry of Agriculture and Farmers Welfare Department, Government. from India. Bank of India has been awarded as a Finalist in the Finacle Innovation Awards 2021 by Infosys among the Large Bank segment in the Covid Response Innovation category. Bank of India received the "Dr. Ambedkar Business Excellence Award" for SC Entrepreneur Loans awarded by IFCI Venture Capital Ltd. Forbes Media, in cooperation with independent market research firm Statista Inc., recognized and awarded Bank of India as one of the best employers in the world-2021 and many more.
The Bank has broadened its horizons and ventured into new areas in order to provide better services and facilities to its customers. The Bank continues to strive to better and uplift society as a whole. It is true to its slogan "Relationship Beyond Banking" and continues to be the People's Bank.